'Everybody from the White House down has given their support to us – we haven't heard from the prime minister,' says reporter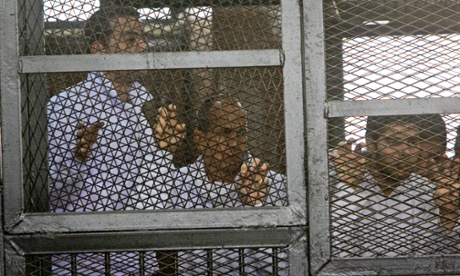 The Australian journalist Peter Greste has spoken out on the second day of his trial in Egypt, calling on the prime minister, Tony Abbott, to declare his public support for the imprisoned journalists.
They appeared shackled and in giant cages. Some defendants claimed they had been tortured and denied medical treatment.
Greste is also a Latvian citizen, and on Thursday the Latvian foreign ministry issued a statement in support of the journalist. "We expect his immediate release as he has committed no crime," a spokesman, Karlis Eihenbaums, told Agence France-Presse.
During the trial, Fahmy rejected the allegations made against him and said he had been denied medical care for his shoulder, which was seriously injured several months ago.
"I covered the Syrian and Egyptian revolutions," he said. "No one ever said that I was dishonourable. It's impossible that I would ever betray my country."
Another co-defendant in the case, Sohaib Said – who is not an al-Jazeera journalist – said he had been tortured in custody. "I have no idea why I am on trial, and it's completely unfair," he said.