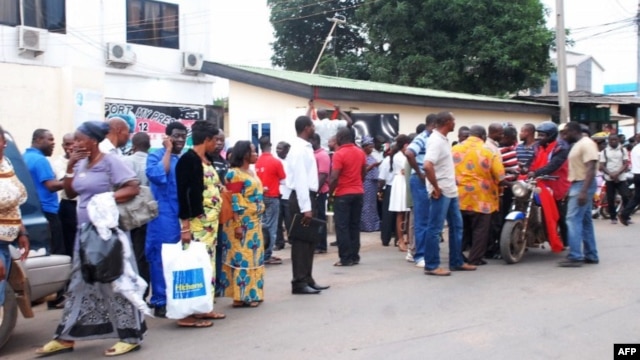 Supporters of Ghana's Ruling National Democratic Congress gather outside the ruling party headquarters in Accra following the death of Ghana's president,July 24, 2012.
A
CCRA — Ghanaian President John Atta Mills died Tuesday at a military hospital in Accra shortly after taking ill. Following a peaceful transition of power on Tuesday, focus is shifting to how the death of Mills will impact the upcoming elections.
Newsstands in Accra ran out of papers with the headline "What a shock: Mills Dead" on Wednesday morning, but life went as normal in the bustling capital of Accra. Analysts say the smooth transition demonstrates the strength of Ghana's democratic institutions.
Just hours after the death of Ghanaian President John Atta Mills Tuesday, Vice President John Drahami Mahama took the oath of office to finish out the remaining five months of Mill's term.
Mahama addressed the nation Tuesday night.
"This is the saddest day in our nation's history, tears have engulfed our nation and we are deeply saddened and distraught," he said. "I never imagined that one day that it would place our nation in such a difficult circumstance. I'm personally devastated - I've lost a father, I've lost a friend, I've lost a mentor and a senior comrade. Ghana is united in grief at this time for our departed president."
Mills is remembered for leading the country into a period of rapid economic growth and further solidifying the stability of one of Africa's model democracies.
The government's rapid adherence to constitutional protocols in the hours following his passing has won the nation praise both at home and abroad and bode well for the coming elections.
"Ghana actually has handled itself very well," said Jake Obetsebi-Lamptey, the chairman of the lead opposition party, the New Patriotic Party. "We have never been through this before. Yet the transition that we saw today in Parliament has been very well handled, very smooth. We are showing a maturity that must encourage all Ghanaians."
Mills was elected president in 2009, following a close runoff election. It was the law professor's third and only successful bid for the presidency.
Mills was set to once again face NPP candidate, Nana Akufo-Addo, at the polls in December. The NPP said in a statement Akufo-Addo has temporarily suspended his campaign in order to mourn the late president.
The elections are expected to go forward as planned, but Mill's death has raised questions about who will replace him on the ruling party ticket.
The ruling party headquarters was buzzing with talk that now President Mahama may replace Mills as the party's nominee.
"Now that the vice president has taken over as the president he becomes the leader of our party," said Kwame Agyenim-Boateng, the NDC party chairman for expatriates living in the U.S. "So we have a national executive council and they will meet and they will see what to do, maybe to confirm him as the flag bearer."
Ruling party supporters like Oheneba Atuahene, 57, said they are ready to throw their support behind Mahama.
"We are going to rally around him," said Atuahene. "We are going to give him all the necessary support we give to Professor Atta Mills. So I think there is a bright future."
Party members said the meeting to nominate a new candidate should take place soon, but a date has not yet been set.